We want to take the guesswork out of buying glasses
Welcome to Our Dispensary
You will see that we are not a store. The Dispensary is an integral part of our practice. Our commitment is to provide knowledgeable advice and professional care to our patients.
On-Site Laboratory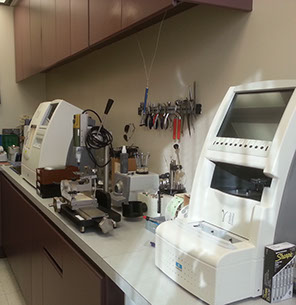 Having an on-site laboratory enable us to provide excellent value, prompt service and control over the quality of your finished eyewear.
Teamwork
The dispensary and doctors work as a team. The information gathered during your eye exam, along with your occupational and lifestyle needs, is used to customize your eyewear.
There is more to a pair of glasses than the numbers written on the prescription. For example, visual tasks, work environment and computer use are all important considerations.
Only FIRST QUALITY materials are used. We do no restrict our patients to only one lens company nor a single frame manufacturer.
Frame Selection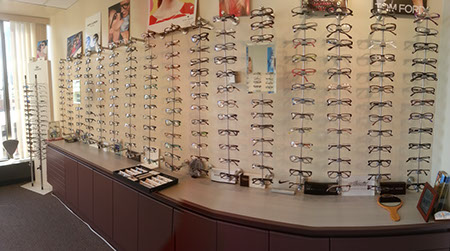 Here are some of the name brands that we carry in our office:
Prada, Tom Ford, Oakley, Kio Yamato, Givenchy, Fendi, Versace, Hugo Boss, Salvatorre Ferragamo, Coach, Etnia Barcelona, Marc Jacobs, and many more! For computer users, we also carry Gunnar glasses.
During frame selection the following criteria are essential:
aesthetics
proper eye-size and bridge measurements
ensuring that the size of the frame is suitable to the prescription
We will discuss and decide with you what options and choices you have with your prescription. with new technology available we can let you know what is right for you.
latest designs from all progressive lens manufacturers
vocational lens for computer users
latest hi-index lens from all companies
new coatings and treatments
Verification
All finished eyewear is verified from the patient's record before dispensing. This includes:
exact power
exact cylinder and axis
accurate placement of optical centers
proper tints and coatings
correct lens design
Dispensing
When receiving your new glasses all adjustments are made to ensure your best comfort and vision. Periodic adjustments are done at no charge. Come in and check out new frames collection every 3 months. Also don't miss out on our sunglass sales.
For more info contact Robert Woo